7 1/2 inch knights dagger. 360 layers 1095/8670m in a ladder pattern with twist pattern for the cross guard. Nickel silver bolsters and pommel with Blk/NS/Blk spacer and walnut burl.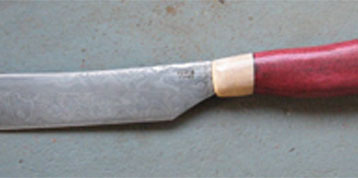 This is a 300 layer blade made of 1095 and metalic meteorite for the brighter layers. 6 1/2 inch blade, one piece handle of purple heart, with Stag antler for the bolster 14 inches overall.
Matched cable damasucs Bowie and Fairbain Skykes. ¼ inch thick with saw teeth on spine of the Bowie. Client wanted to wrap handles with para-cord. Steel hardware
This Egpytian style single edged knife has a 9 1/2 inch blade of Bronze, one piece with the handle, pinned cross guard of brass. 15 inches overall.
2 1/2 inch Boot Knife. 120 layers of 1095/203E/L6 in a compound twist pattern welded blade. Brass bolster and a contoured Osage Orange handle
Bodice dagger, 5¾ inches long, triangle cross section stainless steel blade. 10¼ inches over all. brass hardware and south american purple heart handle. poly finish.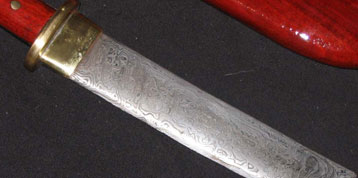 8 inch Tanto, ¼ inch thick 13 inches overall , 360 layers 1095/1018 Pool & Eye. Bloodwood sheath, Brass hardware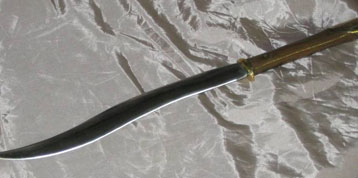 9¾ inch Yataghan styled re-curve 1080 blade. 15¼ inches over all. brass hardware and mahogany handle.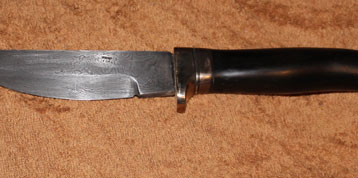 Skinning knife has a 5 1/2 inch blade of 210 layer damascus billet made of 1095/L-6 in a pool & eye pattern, with Buffalo Horn grip with Bronze bolsters.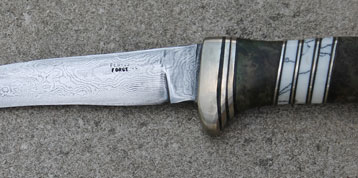 Pool and eye pattern, 5 inch drop point of 240 layers of 1095 and L6. German Silver hardware, with dyed Box Elder burl and white marble.
I would like to present a few photos of some blades I have made for my clients. I am not limited to any standard designs. I look forward to new concepts for exotic woods and blades. Contact me and lets see what I can do for you. These blade have already been sold and delivered o their new owners, but are posted as examples of some of the work I do